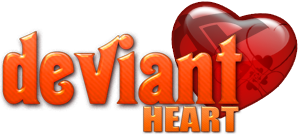 This bi-weekly activity aims to encourage you all to share work you love and discover new deviations you might fall in love with as well!

The concept is pretty simple. Every two weeks on a Thursday I'll share one work from my favourites that fits a certain topic. All you have to do is share a work from
your
favourites in the comments that falls under the same topic as the one I shared. That topic will change each week and is written behind the 'I Love...'; topics can be something like the 'Digital Art', 'Yellow', 'Flowers' etc. You and your suggestions will get featured the next week.
Some basic rules:

Please look at the
'I Love...'
to see what the theme of the week is (e.g. if it says 'I Love... Flowers' link a deviation that has something to do with flowers, if it says 'I Love... Yellow' link a deviation that has to do with yellow/has yellow in it and so forth.)

Use :thumbcodes: to link your suggestions

A short explanation of why you like the work(s) is encouraged and will also be featured

Please link no more than
3
deviations

Since we are a group that aims to spread positivity please refrain from posting work that inlcudes violence/gore, nudity, self-harm, horror, etc.
I Love... The Moon

'dark side of the moon'
by
len-yan
You Love...?



Graphics © The-Lantiis
dAmn #devheart